Eric likes certain gaming tropes. We saw evidence of that when our science fiction characters basically went on a trip through feyland. Another favorite motif is this: lightning is Eric's element of choice when dealing out damage to the players. Case in point, Calen got a little too close to a "ghost" Fibonacci in the machine and this essentially happened...
Now I have used this gif multiple times in conjunction with a lightning strike, so I'll go ahead and throw in this one too...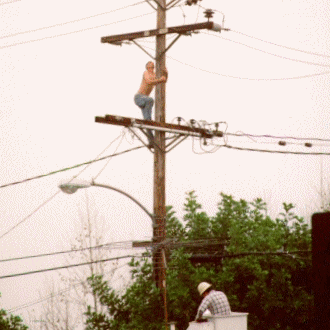 Then when all was said and done we returned home and saw a few ships heading for new Detroit. The ships were not these exactly, but they certainly represented a sense of unease we started feeling...
And at it's head,  the dread fleet had this as its flagship...
Like I said, our GM does love make his lightning references whenever he can.
And when all this went down, a little ditty started playing through my head. And it went a little something like this...
It's a good bet the Empire knows we're here...and I'll confess I've used this music a multitude of times to describe the times when we encounter the might of the enemy, in space or anywhere else. There must be another theme I could use to adequately portray the vibe of "Man, we're screwed." Perhaps there is one full hour of it...
Last edited by Geffert on Tue Sep 20, 2016 12:58 pm; edited 2 times in total



Posts

: 789


Join date

: 2014-02-17


Location

: Salt Lake City



This has nothing to do with the post above. I juse like Youtube videos of John Williams conducting his own classic movie themes...







Posts

: 789


Join date

: 2014-02-17


Location

: Salt Lake City




---
Permissions in this forum:
You
cannot
reply to topics in this forum